BBC Sport - 5 live Sport previews Stage 19 of the Tour de France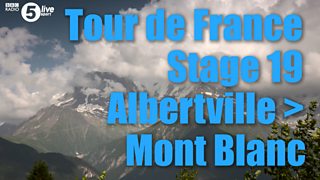 Tour de France: Stage 19 Preview
5 live Sport's OJ Borg and Rob Hayles preview Stage 19 of the Tour de France. The stage includes a final 10km climb up Mont Blanc.
Olympic medallist Hayles said: "It is going to be a true grind all the way to the finish line. This, for sure, is Chris Froome's tour to lose."
Froome is currently on course for a third Tour de France victory after he extended his lead to three minutes and 52 seconds.
This clip is originally from 5 live Sport at the Tour de France on Friday, 22 July.