Commonwealth Games 2018: Isle of Man unveils team of 32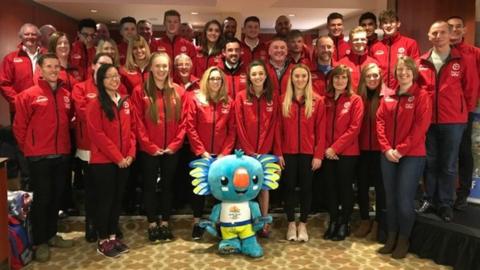 The team chosen to represent the Isle of Man at the 2018 Commonwealth Games in Australia has been unveiled at a ceremony in Douglas.
In total, 32 athletes have been selected and will compete in eight sports on the Gold Coast.
The most notable absentee is cyclist Peter Kennaugh, who won the island's only medal at Glasgow 2014, but Mark Cavendish will ride in the road race.
The athletes will travel to Australia on 19 March.
Cavendish will lead a strong looking men's road race team which also includes Sam Brand, Nathan Draper, Jake Kelly and brothers Leon and Tom Mazzone.
Cycling team manager Graham Hatcher, said: "It is a very strong line-up. Mark only wants to finish in one position - gold. It's a course that will suit him with a chance of a sprint finish.
"We've got a great group and training is going well."
The road races will start and finish on the seafront at Currumbin Beach, with men tackling nine laps of a 18.7km circuit, and women riding six laps.
The reigning British under-23 national time-trial champion Anna Christian and Lizzie Holden will compete in the women's road race.
Meanwhile, Matthew Bostock and Matthew Draper will compete on the track and Nick Corlett in the mountain bike race.
The Isle of Man has also selected six shooters and five swimmers, including double British butterfly champion Charlotte Atkinson.
The island will also be represented in athletics, badminton, gymnastics, lawn bowls and triathlon.
Nicole Burns will the island's only gymnast, having previously been selected for Glasgow, and said she was "over the moon".
Team manager Trevor Taubman said it is the "best prepared team the island has ever assembled".
Manx team
Athletics: Joe Harris (javelin), Erika Kelly (20km walk).
Badminton: Kim Clague, Ben Li, Jessica Li, Cristen Marritt.
Cycling (track): Matthew Bostock, Matthew Draper.
Cycling (road): Sam Brand, Mark Cavendish, Anna Christian, Nathan Draper, Lizzie Holden, Jake Kelly, Leon Mazzone, Tom Mazzone.
Cycling (mountain biking): Nick Corlett.
Gymnastics (artistic): Nicole Burns.
Lawn Bowls: Clive McGreal, Mark McGreal.
Shooting: Rachel Glover, Jake Keeling, Gemma Kermode, Tim Kneale, Neil Parsons, David Walton.
Swimming: Charlotte Atkinson, Stephanie Brew, Guy Davies, Laura Kinley, Niamh Robinson.
Triathlon: Jenny Newbery.