Welsh cycling's Barker sisters aiming for World Cup gold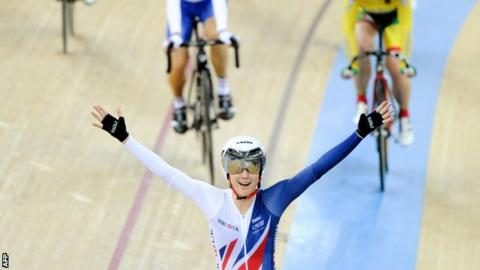 Olympic champion Elinor Barker hopes she can team up with her sister Megan and deliver World Cup gold later this month in Belarus.
The pair have been named in Great Britain's team for the Track World Cup in Minsk on 19-21 January and will compete in the two-rider Madison event.
"It's going to be interesting," said Elinor.
"We are going to be racing the Madison together which is literally a team of two which is me and my little sister."
Elinor Barker, 23, is an Olympic and world champion and hopes to achieve success in Belarus with her 20-year-old sister.
"We haven't raced against each other all that much which I thought we would have done," said Barker.
"I am glad the first real big race is as a team rather than against each other."
Megan Barker has battled back from illness after suffering a blood clot on her lungs in October 2017.
"She has had a bit of a tough time lately," Elinor Barker told the Friday Sports Panel on BBC Radio Five Live,
"She is back on her bike today for the first time in three months because she has been on blood thinners because she can't risk crashing.
"Today will be the first day back on the bike and I had a picture of her riding.
"I have never seen her so happy to ride a bike.
"It has been difficult because she has had a tough time recently but we are pretty supportive of each other, not that competitive."