PDC World Championship: Chris Dobey puts friendship aside for Justin Pipe tie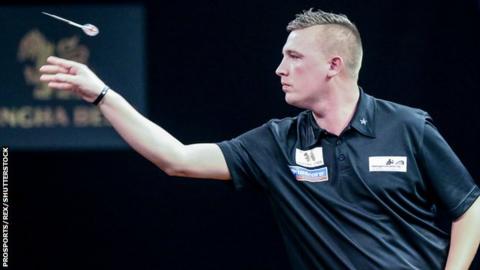 Bedlington's Chris Dobey says friendship will be put aside for his PDC World Championship first-round tie against Justin Pipe.
Dobey, 26, reached the last eight of the Grand Slam of Darts in November and also appeared in the European Championship in 2016.
Pipe won their previous meeting 6-4 in Coventry in May.
"You can't be friends on stage, you've got to want to beat who's in front of you," Dobey told BBC Newcastle.
"He's a great lad, I've played him before and he's got his own style. Some people don't like the way he plays, he's quite a slow player. I respect him, I'm looking forward to it."
Northumbrian Dobey's rise to earning a place at the World Championship is reward for a rapid progression through the professional ranks.
"I was more into football at an earlier age, but darts is something I'm good at," Dobey added.
"It's more a natural talent, my dad, grandfather and uncles all played, I've just come on the scene playing five or six years and came along the last year or so.
"I'm enjoying it and doing well, which is a bonus."