BDO World Darts: Scott Mitchell bids to rediscover title-winning form of 2015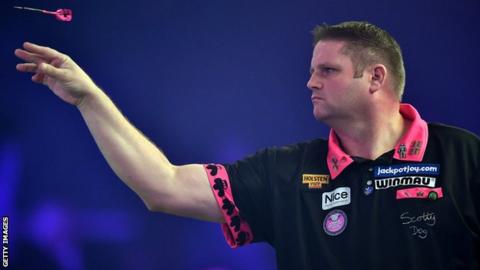 Scott Mitchell confesses there were times when he wished he had never won the BDO World Darts Championships.
The 47-year-old beat Martin Adams 7-6 to claim the world title at the Lakeside in January 2015.
Mitchell, from Bransgore in the New Forest, says life changed beyond expectation in the year that followed.
"I've turned it from something that was a bit of a nightmare to start, into something that I now really enjoy," he told BBC Radio Solent.
Mitchell, seeded fourth at this year's BDO World Championships, faces Lithuania's Darius Labanauskas in the first round on Saturday.
Mitchell, who helps run a family farm, famously a bought new tractor for his father with a large portion of his Lakeside-winning cheque.
Appearances on BBC's Countryfile and the darts exhibition circuit followed. But to begin with, some aspects of his new-found fame became a bit much for Mitchell.
"The year after was the craziest in me and my family's life," he said.
"I went from being Scott the tractor driver being recognised in the village to Scott the world champion, being recognised all over the country.
"That took time to get used to and there was a point three to four weeks after winning at Lakeside, life got so busy, the phone just didn't stop ringing.
"I remember looking across the kitchen table at my wife and said: 'I wished I hadn't won this'.
"That was probably my lowest point. But, since then, I've absolutely embraced it.
"There's things like going on holiday and being recognised when you walk into the hotel and that's a nice feeling."
'Crazy' Lakeside always a special place for Scotty Dog
Despite less practice time than he would have liked, "Scotty Dog" Mitchell feels his build-up has been as close to the form his showed before his 2015 win.
"I've had a really good year, winning five ranking titles and I won seven in 2014 before beating 'Wolfie'," he said.
"I feel in tidy nick, but it all depends on that crazy place that the Lakeside can be. It's an iconic venue to play in.
"For people like me, who've spent years and years watching it on television, it makes the hairs stand on the back of your neck when you go and play there."
Inclement winter weather on the family farm and his father suffering with pneumonia have seen Mitchell spend more time on the tractor than the oche in the build-up.
But he feels his game is still in a good place to do well.
"The farm's taking a bit of a battering lately," he revealed. "The onus has been on me to do a bit more of the work lately.
"Normally my dad does a lot of it and I can go off and be the show-pony of the family. But we were doing this long before I was playing darts and family comes first in everything."
'Oh no, I'm world number one!'
For Mark McGeeney, the tournament brings an opportunity to build on what was an impressive 2017 for the Stockport-based Coventry thrower.
The 45-year-old won the Dutch Open and finished as runner-up at the World Masters, and rose to world number one in the BDO rankings towards the end of 2017.
"It didn't hit me for a few days then all of a sudden I was like 'oh no, I'm world number one' - but I've got used to it now and I'm enjoying it," McGeeney told BBC Radio Manchester.
"I'm going to be the one to beat. Everyone raises their game against me and these are all good quality players so it's hard and tough but I'm enjoying the challenge."
McGeeney faces three-time BDO world champion Martin Adams in the first round on Saturday, but has not ruled out leaving the organisation depending on his performance at Lakeside.
"It's something I've thought about and I'd never rule it out. My focus for now is going to be on Martin Adams at Lakeside but after that you never know," he continued.
"I think one day I will switch to the PDC (Professional Darts Corporation) because that is the future of darts as far as I'm concerned."