Sascha Kindred: Rio champion among GB Para-swimming 2017 squad omissions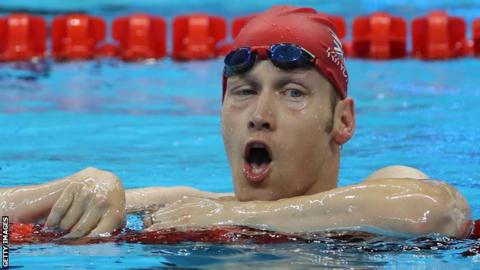 Rio gold medallists Sascha Kindred, Susie Rodgers and Stephanie Millward have been omitted from the British Para-swimming 2017 performance squads.
Also missing out are relay winner Claire Cashmore and the experienced Charlotte Henshaw.
Five-time Paralympic champion Ellie Simmonds is not included because the 22-year-old is taking a break from competition until next year.
A total of 49 swimmers have been named across the three programmes.
Rio champions Ellie Robinson and Aaron Moores are the two newcomers on the 13-strong podium squad, which also includes fellow Rio winners Ollie Hynd, Hannah Russell, Bethany Firth, Mikey Jones and Matt Wylie.
Jessica-Jane Applegate, Steph Slater and Alice Tai move down to the podium potential programme, which has 18 swimmers, while a further 18 competitors have been named in the Para-Academy set-up.
The athletes on the podium programme receive funding from UK Sport and all get access to sports science and medicine services, advanced training camp and competition opportunities and support from British Swimming performance staff and National Institute of Sport programmes across the country.
However, those who are not on the programme can still qualify to represent GB at major international competitions if they reach the qualifying standards.
Kindred (38), Rodgers (33) and Millward (35) have all been part of the GB set-up for many years and helped GB to win 47 medals, including 16 golds, in Rio.
But national performance director Chris Furber knows that with a World Championships in Mexico next September and the next Paralympics to come in Tokyo in 2020, they must now look to the future.
"The beginning of a cycle gives us the chance to take stock of where we are as a programme and create the best opportunities for our developing athletes to come through," he said.
"The programme criteria that we put in place is based on whether the athlete has demonstrated that they are on a focused path to Tokyo, where we expect competition standards to be even greater than in Rio."
Podium squad: Josef Craig, Bethany Firth, Jonathan Fox, Tom Hamer, Ollie Hynd, Mikey Jones, Harriet Lee, Aaron Moores, Andrew Mullen, Eleanor Robinson, Hannah Russell, Scott Quin, Matt Wylie.
Podium potential squad: Jessica-Jane Applegate, Jonathan Booth, Stephen Clegg, Ben Foulston, Kahrou Harazawa, Danielle Hartin, Grace Harvey, Abby Kane, Lily Macleod, Jay McCabe, Zara Mullooly, Rebecca Redfern, Megan Richter, Jaxon Simmons, Stephanie Slater, Maisie Summers-Newton, Alice Tai, Lewis White.
Para-Academy squad: Oludaisi Adefisan, Aliya Bacakoglu, Oliver Carter, Jordan Catchpole, Katie Crowhurst, Bethan Eckley, Louise Fiddes, Benjamin Grainger, Abbie Hampshire, Molly Hopkins, Beth Johnson, Jacob Leach, Rebecca Lewis, Elise Martin De La Torre, Matthew Rishworth, Toni Shaw, Cara Smyth, Liam Spence.