Burghley Horse Trials: Oliver Townend 10th after cross country, Chris Burton leads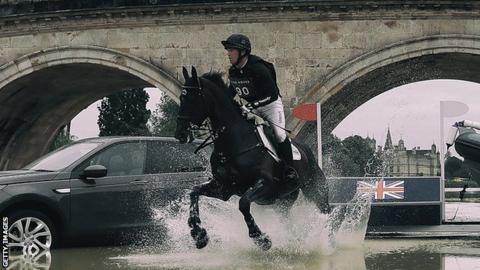 Burghley Horse Trials
Venue: Burghley Park, Lincolnshire Date: Sunday, 04 September Start: 15:00 BST
Coverage on BBC Two
Australian Chris Burton took pole position at the Burghley Horse Trials, with Oliver Townend the leading Briton in 10th after the cross-country event.
Burton is 11.5 penalties clear on Nobilis 18, meaning he can be two fences down in Sunday's showjumping and still triumph.
Townend is 29.6 penalties off the pace on Samuel Thomas II.
New Zealanders Tim Price and Andrew Nicholson are 2.3 penalties apart in second and third.
Yorkshire's Townend, the 2009 champion, had been fifth overnight after the dressage, but retired his horse MHS King Joules before the cross-country.
Rio 2016 eventing bronze medallist Burton collected just 3.2 cross-country time penalties on a day when none of the 70 starters finished inside the optimum time of 11 minutes 11 seconds.
Six-time champion William Fox-Pitt was the last Briton to win the Burghley Horse Trials, doing so in 2011, with Germany's Michael Jung winning last year.