Olympia Horse Show: Scott Brash second behind Julien Epaillard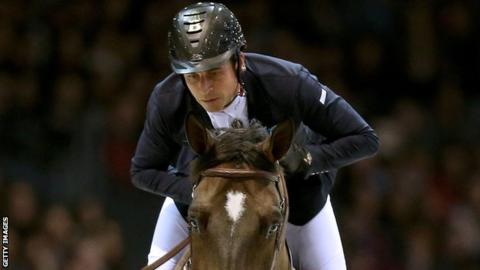 Frenchman Julien Epaillard denied Britain's Scott Brash a second successive victory in the show jumping World Cup at the Olympia Horse Show.
Four riders went clear to set up a jump-off, which Brash briefly led by clocking 37.34 seconds on Ursula XII.
But Epaillard, riding last, took Toupie de la Roque round in 36.91 to win leg eight of the Western European League.
British riders William Whitaker and Laura Renwick finished eighth and 15th respectively after one fault apiece.
Thirteen nationalities were represented among the field of 36, many of whom found the tight angles of the course difficult to negotiate.
Swede Peder Fredricson, on H&M Christian K, was first to go clear - in 68.29 - then clocked 41.34 on the revised jump-off course.
Australia's Edwina Tops-Alexander then followed her 69.94 on Inca Boy van T Vianahof with a 41.05 to top the leaderboard.
But, despite clipping the top pole of the final obstacle, 2016 winner Brash took the lead with just Epaillard left to jump.
The Frenchman made it a clean sweep of clear rounds in the jump-off to take the title.
Where did the British riders finish?
2) Scott Brash (Ursula XII) - clear in first round, beaten in jump-off)
8) William Whitaker (Fandago) - 4 penalties
15) Laura Renwick (Top Dollar VI) - 4 penalties
26) William Funnell (Billy McCain) - 12 penalties
29) Amanda Derbyshire (Luibanta BH) - 12 penalties
30) Michael Whitaker (Calisto Blue) - refusal and 12 penalties
34) Guy Williams (Rouge de Ravel) - 20 penalties
35) Ben Maher (Don Vito) - 20 penalties
36) Robert Smith (Ilton) - 21 penalties