Cardiff City manager Mackay wants officials' response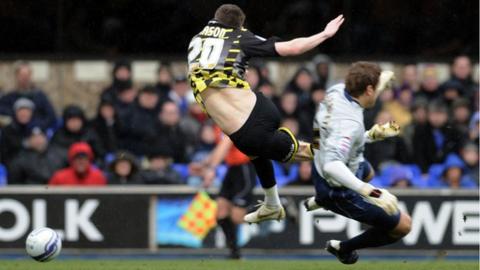 Cardiff City manager Malky Mackay wants an explanation from the game's authorities over a controversial incident in his side's 3-0 Championship defeat at Ipswich.
Ipswich goalkeeper Arran Lee-Barrett fouled Joe Mason, but was merely booked by referee Simon Hooper.
Mackay said: "The referees' supervisor and the head of referees will see it in the next couple of days.
"I'll be showing it to them and I'll be looking for a response."
Mackay believes the first-half incident "changed the course of the game", but admitted his side were second best after the break.
"It was incredible," said Mackay.
"At the time, the whole stadium, even the Ipswich fans, must have had their hearts in their mouths.
"Then their manager [Paul Jewell] looks at me and blows his cheeks out when the yellow card goes up.
"I calmly asked the referee about it at half-time and he felt the goalkeeper tried to nick the ball away with one foot.
"But anyone who's looked at it has seen two feet off the ground, flying in, hitting him about knee-height.
"It's a defining moment and one I can't get my head round."
Mackay batted off the suggestion that his side's minds were focused on their Carling Cup final against Liverpool at Wembley on Sunday, 26 February.
"They're a very focused, hard-working group of players with no egos," said the Scot.
"They've focused on everything we've asked them to do all season and that was the case today.
"We started well enough and over the course of the first half had plenty of attacks.
"But in the second half we were second best.
"We gave a poor goal away at the start of the second half and that gave us a mountain to climb."