Sale owner Brian Kennedy waives Stockport County rent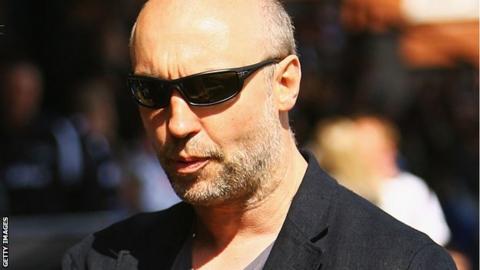 Sale Sharks owner Brian Kennedy has eased Stockport County's current financial problems by waiving their rent for the past six months.
County's Edgeley Park home is owned by Cheshire Sports, a Kennedy company.
In a statement County chairman Lord Peter Snape said: "Cheshire Sports has suspended payment of all stadium occupancy costs for a number of months.
"This support is to the sum of £75,000 and will help alleviate the cash constraints being felt by the club."
Conference outfit Stockport and Premiership rugby union side Sale have been ground-sharing since 2003 when the two clubs merged. Kennedy later relinquished his invovlement with County.
The Hatters spent the whole of the 2010 season in administration as they were relegated from League One, but were taken over by the current 2015 consortium.
They suffered a second successive relegation last season, leaving the Football League for the first time in 106 years, and were subject of an attempted takeover in September by a Liverpool-based consortium lead by Tony Evans.
This collapsed in September with Evans leaving the club, which also later saw manager Dietmar Hamann depart and former boss Jim Gannon return.
Gannon has been forced to trim the squad because of financial restraints, and in an attempt to bring some stability the club were loaned £182,125 by Stockport Council.
"The board has been approached by Cheshire Sports and Brian Kennedy during the last month looking to explore what assistance they could offer to help Stockport County in the short and longer term," Snape added.
"These discussions are still ongoing and there are many topics under review. However, the club would like to make public its thanks and appreciation to Brian Kennedy for this generous offer of assistance.
"In placing its public thanks on record, the board would like to ensure that all the supporters of Stockport County appreciate this assistance has been offered without pre-condition and makes a significant contribution to the welfare and success of the club.
"We are also in discussions with Cheshire Sports and Brian Kennedy regarding further sponsorship arrangements."