Stoke City win appeal against Rory Delap red card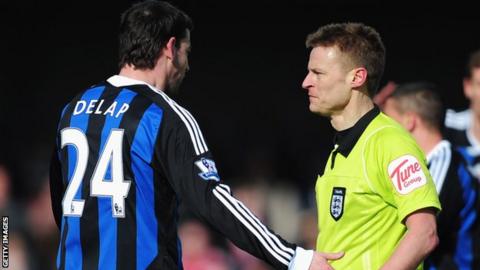 Stoke City have had the red card shown to Rory Delap in Sunday's FA Cup win over Crawley overturned.
Referee Mike Jones dismissed the midfielder in the 15th minute following a tackle on David Hunt.
The Football Association upheld Stoke's appeal and Delap's three-match suspension has been withdrawn.
The Potters' assistant manager Dave Kemp told BBC Radio Stoke that the decision to rescind Delap's red card was "good for football".
He added: "I'm absolutely delighted but it should never have come to this.
"Well done to the authorities because they've come up with the right decision this time.
"The fourth official [Lee Probert] said [the sending-off] was for excessive force. That's a very debatable subject.
"There was no danger to the opponent. It's football and it's been played for years that way.
"This is why English football is loved throughout the world - because people know that the game is played with passion and everyone's playing at 100%.
"[The decision] is good - not just for Stoke, it's good for football."
It is the second time in recent weeks that the Potters have appealed against a red card.
On 7 February, the FA rejected City's appeal against defender Robert Huth's sending-off during their home defeat by Sunderland.
After that rebuff, Pulis called for clarification over "what is a sending-off and what isn't".
"We are watching games at times and we are getting different decisions being made for different teams and different players, but similar incidents," he said.