Roberto Mancini 'still not spoken' with Carlos Tevez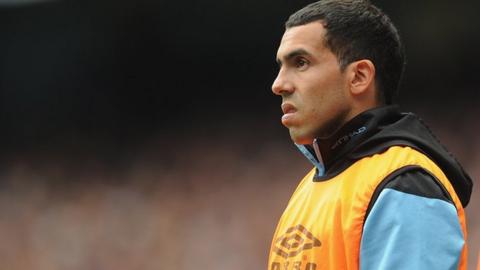 Roberto Mancini has not spoken to Carlos Tevez since the striker arrived back at Manchester City last week, BBC Sport understands.
Tevez returned to City after ending a self-imposed, three-month exile following a touchline row with Mancini.
The player has not kicked a ball in training and is thought to be a long way off match fitness.
Mancini has previously said Tevez must apologise before he will consider him for selection again.
The former West Ham and Manchester United player was given his own fitness programme and did not meet Mancini before the Italian flew to Portugal for last week's Europa League last-32, first-leg game with Porto.
With City not in action last weekend, Mancini gave his players some time off after the Porto match and did not fly back to Manchester with the squad.
The fact the City manager and the controversial Argentine have yet to speak, together with the revelation that the player is well short of match fitness, will fuel suggestions that Tevez is unlikely to play a part in City's title push between now and the end of the season.
"There is a meeting tomorrow - against Porto. I am here to talk about Porto," said Mancini when asked, at a press conference ahead of Wednesday's Europa League second-leg tie, if he would be sitting down with Tevez.
Mancini's relationship with Tevez has been strained since the City boss accused the player of refusing to come off the bench in the 2-0 Champions League defeat to Bayern Munich in September.
It became even more fractured when Tevez claimed in an interview prior to his return to Manchester that he was treated "like a dog" by Mancini.
Meanwhile, City's midfielder Samir Nasri said he would welcome Tevez's return to the team.
"I think he is an important player for us and for every team in Europe, because he has quality," said the Frenchman.
"I don't know what happened. If he has to apologise, then he has to do it and then he will be in the squad, because we need players of his quality to win the league and the Europa League.
"After that it is for the club and Carlos to deal with."