Celtic manager Neil Lennon wants to win SPL title at home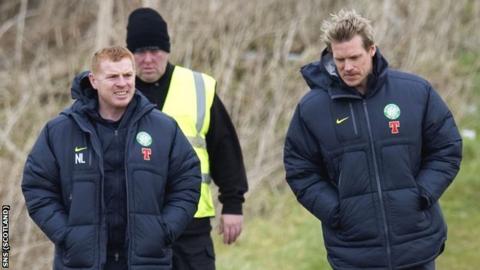 Celtic manager Neil Lennon's preference would be to win the Scottish Premier League title at home.
His team lead Rangers by 17 points with 11 games remaining and could feasibly clinch the title at Ibrox on 25 March.
"It's maybe coincidental that there could be an opportunity to win the title there," said Lennon.
"If that's where we are on the 25 March, we'll try to go and win it. I would much rather win it here at Celtic Park in front of our own supporters."
Celtic have won 15 SPL games on the trot and 18 in all domestic competitions.
If they win their three league matches before the Old Firm clash at Ibrox at the end of March and Rangers drop two points in their trio of games then Celtic could win the SPL title at the home of their old rivals.
Such a scenario has resulted in Strathclyde Police arranging a meeting with the SPL.
The police would prefer if this circumstance could be avoided but say pre-sales of tickets and hospitality packages make a switch of date difficult.
"That's just the way the cookie crumbles," said Lennon on the possibility of a title clincher on the south west of Glasgow.
"We're not getting ahead of ourselves. We could drop points along the way, Rangers could drop points along the way. I don't know.
"It's not up to me to make that decision but I don't see why fixtures should be changed.
"I wouldn't be overly pleased if they started changing fixtures for the sake of it."
While winning runs are not unwelcome, Lennon insists that, above all else, it is the silverware that is driving him and the team on in the remaining weeks of the season.
"The performances and the results mean everything to me at the minute, but the records don't mean a great deal at all," he said ahead of Wednesday's visit by bottom side Dunfermline Athletic.
"We've won 18 games in a row. That's an exceptional level of consistency and, in that time, there have been some sparkling performances.
"We're taking it one game at a time. We want to win the championship. We have a healthy lead now.
"We just need to tick off the games and entertain the fans while we're there.
"We want to win the league and we'd like to win the League Cup and the FA Cup.
"I've no interest in breaking records; we're just interested in winning trophies this year."
Asked if he felt his team could remain unbeaten until the end of season, Lennon said: "It's an incentive for them, but it's a very difficult thing to do.
"The players have worked very hard to get into this position.
"We have a big couple of games coming up this week and a huge month in March, so there's a lot of football to be played."