Plymouth Argyle: John Sheridan mulls over keeper decision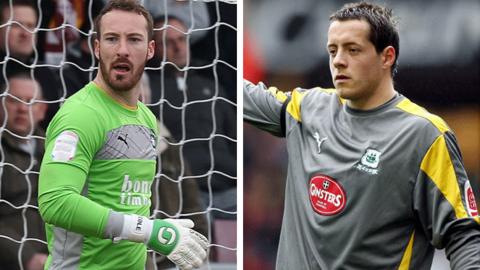 Plymouth boss John Sheridan says he will make a decision on his first-choice goalkeeper after Tuesday's League Cup clash with Birmingham.
Luke McCormick started Argyle's League One opener against Southend on Saturday, but last season's number one Jake Cole will face Birmingham.
"I told them before the season began I'd play Luke at Southend and Jake at Birmingham," he told BBC Radio Devon.
"Then I'll make my decision on who's going to get a regular place."
The pair were also rotated during Argyle's pre-season programme.
"It's not a question of who won the game or lost the game [they played in] - it's who's going to be the best goalkeeper for us," he added.
McCormick, 29, returned to the club in May 2013 after serving about half of a seven years and four months prison sentence for causing the death of two children in a car crash.
Following his release from prison, McCormick played for non-league Truro City and for League Two side Oxford United.
He played 157 games for Argyle during his first spell with the club, including during the club's time in the Championship.
Cole joined Plymouth in July 2011 on a free transfer and has made 75 appearances for the club, including 36 last term.
Talking during pre-season to the club website, Sheridan admitted that he faced a difficult decision.
"They are very evenly matched," he said.
"They both work well together; and they want each other to do well. It's good to have competition. It ups each other's game. They know what I'm like. I don't pick any favourites - I pick who I think should be playing.
"Jake did very well in my short time here when I came last year, and Luke's come in to prove himself again - he's been here before and was an excellent keeper."