Ex-Spurs boss David Pleat on new head coach Tim Sherwood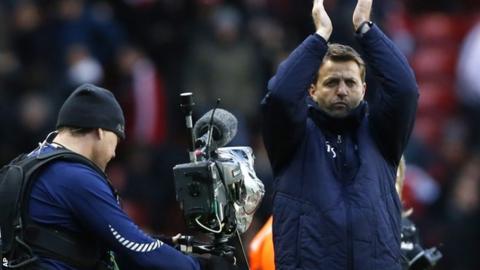 Tottenham announced on Monday that Tim Sherwood was the new head coach of the club, signing a deal until the end of the 2014-15 season.
Sherwood, who captained Blackburn to Premier League success in 1995, has been on the Spurs coaching staff since October 2008 and played 118 times for the club between February 1999 and January 2003.
Former Tottenham boss David Pleat, who managed Sherwood during his time with the club, gives his thoughts on the 44-year-old's appointment.
A glorious opportunity?
"He is ambitious and a leader. I look back to when he was at Blackburn with Alan Shearer, David Batty, Chris Sutton and Graeme Le Saux - some big players - but he was the leader and spoke for the team.
"He is a hard-working guy. He has developed and helped develop some good players that have emerged this season."
Is his appointment a huge risk?
"Every manager is a risk. There are no messiahs out there. Everyone thinks they can do it, but I think Tim will do OK. He will get respect, he understands the game and importantly can communicate.
"He will be steady and will not get carried away. It's a very big club and I believe he has certain qualities that will stand him in good stead.
"The club had to retain some stability. After sacking Andre Villas-Boas, they had to get something in place quickly. If they had brought a new man in, it would have taken him a few weeks to get things sorted."
What are his objectives this season?
"Tottenham would love to get into the Champions League, but it will be very hard for that to happen.
"Tim has got two quite good players in each position and he will improve the way they play. That will satisfy their supporters.
"I saw some of their Europa League games against some poor opposition and the slow passing and the square passing gave no opportunities for forward players to receive the ball.
"Jermain Defoe, although he scored a few goals in Europe, suffered, as did Roberto Soldado, but Tottenham will get the ball forward quicker."
Will he get on with chairman Daniel Levy?
"He is quite opinionated and will have to temper his views, but he will not be a 'yes' man."
Should he have started his managerial career elsewhere?
"Many internationals have gone straight into management and failed miserably as they had high standards as players and could not cope with less talented players.
"Sherwood is someone who has knowledge of the club and how it works. I think they've made a sensible decision."
What can Tottenham fans expect?
"Their supporters appreciate talented players like Paul Gascoigne, Jimmy Greaves or Glenn Hoddle. They have always had great players but have always played a certain way. That's important to the Tottenham fans.
"He will not play with a holding player just because everyone else thinks you have to have a holding player.
"He will communicate his thoughts to the board and the supporters. It will be more comfortable for him than it was for Andre Villas-Boas."
David Pleat was speaking on BBC Radio 5 live.