BBC Sport - Chelsea 1-0 Swansea: Blues controlled the game - Mourinho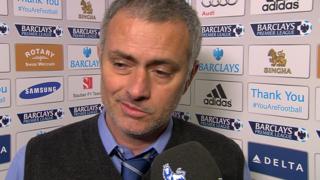 Chelsea controlled Swansea - Mourinho
Chelsea boss Jose Mourinho says his team "controlled" Swansea for the majority of their 1-0 at Stamford Bridge, but still wants the Blues to score more goals.
Eden Hazard drove in a shot to score the only goal of the game after 29 minutes, with Swansea goalkeeper Gerhard Tremmel making a series of impressive saves to keep the score 1-0.
The result means Swansea have now won only twice in their last 10 top-flight matches.