Cardiff City: Malky Mackay 'had to go', says Sam Hammam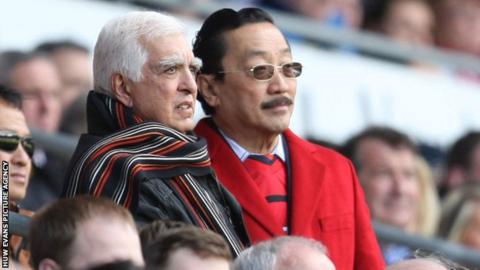 Malky Mackay had to be fired by Cardiff City, says former owner Sam Hammam.
The 41-year-old Scot was sacked on Friday after two-and-a-half years in charge after a fractious relationship with billionaire owner Vincent Tan.
Club life president Hammam claimed the situation between Mackay and Tan had broken down irretrievably.
"The sacking of Malky was the right thing to do, the only problem is it should've been done a long time ago," said Hammam.
Mackay guided Cardiff to the League Cup final in 2012 and followed it up last season with the Championship title and promotion to the Premier League.
But he and Malaysian Tan had a public falling out when Mackay said in December he wanted to sign three players in the January transfer window.
That prompted Tan to announce he would not make "a single penny" available for Mackay to spend.
He also recently wrote to the manager, asking him to resign or be sacked.
Hammam, who had control of Cardiff City between 2000 and 2006, said Mackay's departure was inevitable after the row became public.
"If they're not... perfectly synchronised and are not working hand in glove, it just simply is not going to work.
"And because Vincent owns the club then Malky has to go. It doesn't matter what is right or wrong, or what Malky did - this is beside the point."
Hammam credits Mackay with successfully steering Cardiff back to the Premier League for the first time in 52 years.
However, he believes the money invested by Tan made his job easier.
"Are we up because of Vincent, or because of Malky?" he asked.
"Well, the answer is because of both. But, by and large in a very, very big percentage it's because of Vincent, but the accolades and so on went to Malky."
The seeds of the split between the manager and the owner were sown in the summer following Cardiff City's promotion, according to Hammam.
He claimed Tan felt Mackay's "spending money like water" in the transfer market was not reflected in the team's results in the Premier League.
The failure of £8m striker Andreas Cornelius to make an impact in particular rankled, especially after Mackay claimed the player "needed time to learn."
Now that Mackay has gone Hammam said it was important to appoint a new manager whose "feet are on the ground" and for Tan to have a bigger say in the running of the club.
"The key here is one word - control," he said.
"It is now high time that Vincent Tan takes full and complete control of all aspects of the club as and when he can."
Hammam believes Ole Gunnar Solskjaer is the ideal candidate to replace Mackay.
The former Manchester United striker is currently managing Molde in Norway.
"I've known him from when he was a young kid playing for Molde and I tried to buy him when I was the owner of Wimbledon," said Hammam.
"He had a good grounding when he played for Manchester United but significantly now he's the manager for Molde, he would have had very good basic grounding for what is needed now.
"We need a manager whose feet are on the ground and not just telling Vincent Tan, 'give me your money, give me your money' as if Vincent Tan is a cash cow."