BBC Sport - World Cup 2014: 100 great World Cup moments - 88 days to go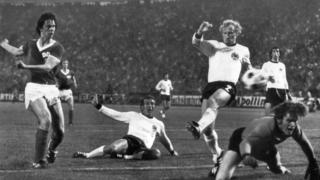 World Cup moments: East v West
BBC Sport counts down 100 of the greatest World Cup moments, as the 2014 tournament in Brazil draws nearer.
Today looks back at one of the most politically-charged matches in World Cup history, when Jurgen Sparwasser's goal gave East Germany a famous 1-0 win over their neighbours West Germany during the 1974 tournament.
Available to UK users only.