Braintree Town 3-0 Wrexham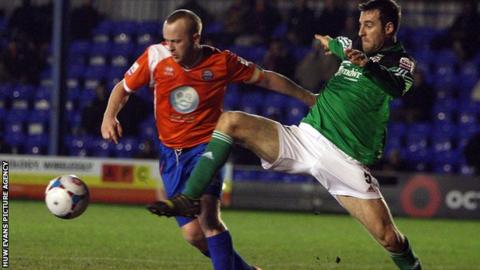 Sean Marks, Dan Holman and Alex Jakubiak scored as Braintree extended their unbeaten run to five games with victory against Wrexham.
Braintree took a deserved lead when Marks linked well with Holman before he rounded keeper Andy Coughlin to roll the ball into an empty net.
Wrexham made a bright start to the second half and Joe Anyinsah's fierce half volley was saved by Nick Hamann.
Holman doubled Braintree's lead before substitute Jakubiak added a third.
Jakubiak came off the bench to make his Braintree debut having joined on a month's loan from Watford.
Wrexham caretaker-manager Billy Barr told BBC Radio Wales:
"It's a tough night for everybody connected with Wrexham. I just didn't see that first half coming, that's not what we've been like.
"I couldn't come up with anything positive at half time, I tried to rattle a few cages. We came out with a little bit more intent but still not enough.
"I'm lost for words in a way - it's hit me and it's horrible. The feeling I've got in my stomach at the moment - it's just sick.
"I'll hopefully try and get a few players in [on loan] ... because it looks as though we might need to."