Macclesfield Town 1-2 Forest Green Rovers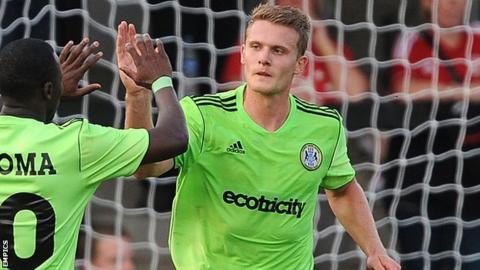 Yan Klukowski gave Forest Green victory over Macclesfield and became the club's all-time top scorer in the Conference.
The 27-year-old midfielder surpassed the previous record of 46 just two minutes into the game, hitting a powerful drive past Rhys Taylor.
And his stooping header made it 2-0 to Rovers after 20 minutes.
Scott Boden pulled one back for Macc after the break, firing low under keeper Sam Russell, but he was unable to convert an equaliser moments later.
Forest Green Rovers midfielder Yan Klukowski told BBC Gloucestershire:
"I'm delighted [with the record] and it makes it even more special that we won the game.
"It's great to get individual accolades but it's about the team. But it was a nice moment for me and my family.
"The first goal was probably the best one I've scored all season."