Leeds United 2-1 Millwall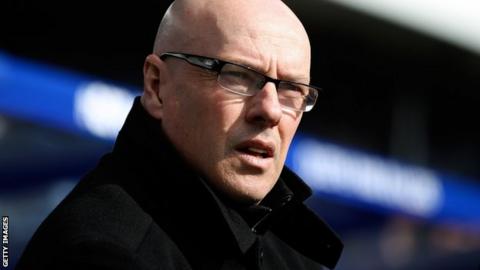 Leeds ended a turbulent week off the pitch with a first win in seven matches in all competitions to leave Millwall in the relegation zone.
Massimo Cellino's proposed takeover at Elland Road was left in doubt on Tuesday when the Italian was found guilty of tax evasion.
But a first-half header from Matt Smith and Ross McCormack's low finish gave the hosts reason for cheer.
Blackburn loanee DJ Campbell scored from 25 yards for the visitors.
The Lions have now won only twice in 15 outings since the start of the year and remain in the bottom three.
Leeds United's owners are still waiting for a decision from the Football League on Cellino's proposed takeover of the club.
Cellino heads Eleonora Sports, which agreed to buy a 75% stake in Leeds from Gulf Finance House Capital in February.
Leeds had shown little threat in the opening half on Saturday when the impressive Connor Wickham launched a long ball into the box, and Smith's well-placed header gave him a 10th league goal of the season.
McCormack then scored his 25th league goal of the campaign when he cut in from the right wing before slotting an effort between David Forde's legs.
Millwall manager Ian Holloway brought on strikers Campbell, Stefan Maierhofer and Simeon Jackson in search of a way back into the match, and Campbell provided it in the 72nd minute by sending a 25-yard strike into the top corner.
Jackson fed Maierhofer two minutes later, but Jack Butland kept the Austrian's low effort out with his feet as Leeds held on for a welcome victory.
Millwall boss Ian Holloway:
"Leeds were on their knees.
"I've never sensed this place like that. They need to back their manager, get their life sorted out.
"They're a wonderful club but that ain't right.
"Stop causing havoc, support your manager who's a great bloke, and sort your life out.
"I've never been to Leeds and they (have) felt that wobbly. And that hurts, because they were there, and they slipped out the bag."
Leeds manager Brian McDermott:
"We're fighting for our lives as a club with the ownership situation. We want to get it sorted out as quickly as possible.
"We've had a run of form that has been difficult to say the least, but you have to remember how many young players are in this team.
"We needed to win and we're delighted that we've hung on. We need an owner that really wants to carry this club forward and that's the most important thing.
"This place is uncertain; fans pick up on it, players do and staff do.
"We want the uncertainty to go away and once we've got a decision and the owner comes in and someone who has got clout and can carry us forward, it gives
us a chance to put this club back to where it belongs."