Forest Green Rovers 1-1 Wrexham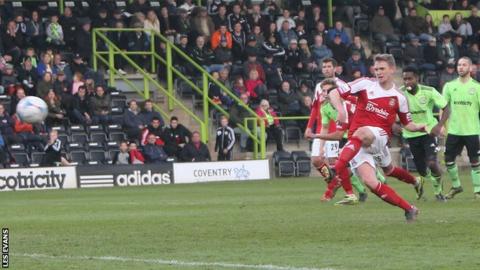 Johnny Hunt's late penalty earned Wrexham a draw at Forest Green Rovers.
Hunt was on target after substitute goalkeeper Paul White brought down Bradley Reid in the 89th minute.
Rovers took the lead in the 14th minute when James Norwood slotted the ball past Andy Coughlin.
Wrexham were disappointing during a first half when they offered very little but improved after the interval, and almost clinched a win when White saved from Hunt in stoppage-time.
Forest Green's Lee Hughes had earlier had a goal disallowed for offside.
The result leaves Forest Green 10th in the final table, with Wrexham a disappointing 17th a year after
Forest Green Rovers manager Adrian Pennock told BBC Radio Gloucestershire:
"It was a game that obviously we wanted to win, but that's been our season. Next season for me will start tomorrow.
"I think it was the 12th or 13th penalty that we've conceded and that's got to be addressed.
"The points ratio has been very good, and the effort has been 10, but we've got a lot to improve on."
Wrexham manager Kevin Wilkin told BBC Radio Wales:
"I thought overall we kind of controlled the game, we bossed the game from start to finish and if we hadn't taken something out of it it would have been a bit of a travesty.
"I was delighted that we kept going right to the very end, and in the second half I thought it was all us and the only way they looked like scoring was on the counter attack."