Roy Hodgson: FA should not give in to pressure - Graham Taylor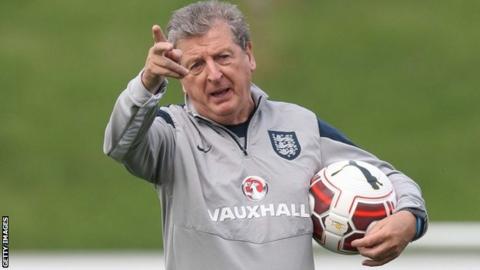 The Football Association should not be pressurised by the media regarding the future of England manager Roy Hodgson, according to ex-boss Graham Taylor.
The 67-year-old let his anger at the negative reaction to his side's 1-0 win against Norway on Wednesday boil over when he swore in a post-match briefing.
The display at Wembley Stadium was criticised, but the outburst fuelled more headlines.
"The FA have [buckled] many times. I'm hoping they don't," said Taylor.
And he added: "Roy has come into this job with tremendous international experience. He's the first English manager to be appointed with previous World Cup experience."
In the post-match briefing, Hodgson defended the performance of his players following Wednesday's friendly win in front of the lowest crowd at the new Wembley - 40,181.
Press v England manager
Daily Mail on Kevin Keegan after England's Euro 2000 exit:"He now knows at international level it is criminal to send teams out to play with the gambler's brio of Newcastle but also the balance of a one-legged tightrope walker.
The Sun on Glenn Hoddle after his comments about the disabled in 1999:"Glenn Hoddle must go today. If he won't resign, he must be sacked. "Hoddle was already a joke with his players, who laughed at his ridiculous antics with a barmaid turned faith healer. Now he is a figure of hate for the fans."
The Observer in 1973 on Sir Alf Ramsey failing to get England to World Cup 1974:"If we need to be eliminated to get a new manager so be it."
Daily Mirror on Sir Bobby Robson after England's dismal Euro 1988:"In the name of God, go."
The former Switzerland manager used two expletives when dismissing the statistic that England only had two shots on target.
"Some people will be pleased to see he reacted that way. I've read some of his comments previously and thought, 'you're covering things up and doing well' - he had not shown this burst and the swearing before. He didn't go down that path," added Taylor.
"It opens things up - after the disappointment of the World Cup, and the display against Norway, if we were to lose to Switzerland there will be fierce criticism of him."
England begin their Euro 2016 qualification campaign away to the Swiss on Monday. It will be their first competitive match since the draw against Costa Rica at Brazil 2014, the final group game of what was England's worst-ever World Cup finals performance.
Taylor himself was the target of mocking back-page headlines during his tenure between 1990 and 1993. The 69-year-old lost his job after failing to lead England to the 1994 World Cup finals, although he was heavily criticised by the media during Euro '92 when his side finished bottom of their group.
Asked whether further negative reports could affect Hodgson, the former Watford and Aston Villa manager said: "There could be a breaking point - I really hope there's not - simply on the basis Roy wasn't first choice in the minds of a section of the media.
"You could argue if Harry Redknapp hadn't had a court case he would have got the job - that would have pleased some of the media.
"That's the same with every England manager. Not every member of the media agrees with the selection."