Euro 2016: Will all UK & Ireland teams qualify for France finals?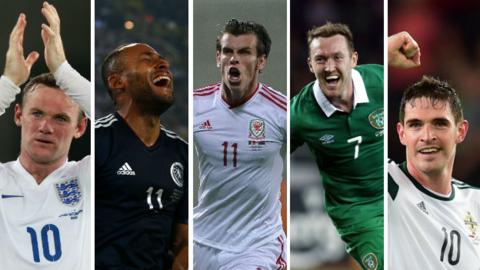 In the 54-year history of the European Championship, England, Scotland, Wales, Northern Ireland and the Republic of Ireland have never all qualified for the same finals.
Given that Northern Ireland and Wales have never made it to a finals, it is an inevitable statistic - but one that could change at Euro 2016.
While only 16 teams contested Euro 2012 in Poland and Ukraine, 24 nations will compete in an expanded tournament in France.
Might that make room for all five?
With the top two teams in the eight groups, along with the best third-placed side, all qualifying directly for the finals, there has never been a better chance for them all to progress.
Even if they fail to make that first cut, the other third-placed sides in each qualifying group will get a second chance, playing off against each other in two-legged play-offs.
After their opening qualifying games, this is how the home nations and the Republic of Ireland's Euro 2016 prospects are shaping up.
England
Euro pedigree: England's failure to make the 2008 finals - via a defeat to Croatia forever associated with coach Steve McClaren's umbrella - was the only time they have been absent in the last seven European Championships.
As reigning world champions they finished third in Italy in 1968, and they were also beaten semi-finalists as hosts in 1996 when Alan Shearer finished as top goalscorer.
So far in Euro 2016 qualifying: A trip to Switzerland, who took eventual runners-up Argentina to within two minutes of penalties at the World Cup, presented a formidable early test for England, particularly after they went out of Brazil 2014 without winning a game.
But Roy Hodgson's side passed with merit as Danny Welbeck scored both goals in a 2-0 win in Basel.
Still to come: Given their win over Switzerland and a shock defeat for the next highest-ranked team in the group - Slovenia, who lost in Estonia - some fans are claiming that England are all but through with only one game played.
Certainly San Marino at home should pose few problems for England in their next match on 9 October, but Slovenia, who have lost by only a single goal in two previous meetings with England, may fancy their chances of improving on that record in Ljubljana on 14 June 2015.
England's remaining Euro 2016 qualifiers
Switzerland (h) 8 September 2015
San Marino (h) 9 October; (a) 5 September 2015
Estonia (a) 12 October; (h) 9 October 2015
Slovenia (h) 15 November; (a) 14 June 2015
Lithuania (h) 27 March 2015; (a) 12 October 2015
Former England international Danny Mills: "I want England to show a bit of determination and physicality in this campaign and they certainly did that against Switzerland.
"The World Cup was hopeless. It was absolutely diabolical. It is still basically the same group of players, albeit depleted with a couple of retirements, but they produced a decent and respectable performance in Basel.
"It's a long process but we have seen signs of positivity."
Scotland
Euro pedigree: With a team containing the likes of Gary McAllister, Ally McCoist and Andy Goram, Scotland qualified for successive European Championships in 1992 and 1996.
Drawn alongside Germany and the Netherlands, they failed to make the knockout stages in 1992.
Four years later, a 78th-minute goal from the Netherlands' Patrick Kluivert made little difference to an England side already 4-0 up on the Dutch, but meant that Scotland lost out on goals scored.
So far in Euro 2016 qualifying: Scotland emerged from their first qualifier without a point but plenty of positives, pushing world champions Germany all the way before succumbing to a 2-1 defeat.
Gordon Strachan's side more than held their own in Dortmund, particularly at the start of the second half, and felt that they were hampered by referee Svein Oddvar Moen's performance.
Still to come: With their toughest-looking fixture in their group - Germany away - behind them, Scotland will hope to get their first points on the board against Georgia at Ibrox on 11 October.
Scotland's remaining Euro 2016 qualifiers
Georgia (h) 11 October; (a) 4 September 2015
Poland (a) 14 October; (h) 8 October 2015
Republic of Ireland (h) 14 November; (a) 13 June 2015
Gibraltar (h) 29 March 2015; (a) 11 October 2015
Germany (h) 7 September 2015
Group G may well turn into a three-way fight for second place between Scotland, Poland and Republic of Ireland. If so, Scotland's trips to Warsaw on 14 October and Dublin on 13 June 2015 could prove crucial.
However, as fans might recall from a promising Euro 2008 qualification campaign that was derailed by defeat to unfancied Georgia, Scotland will need to be wary on their return to Tbilisi.
Former Scotland international Pat Nevin: "Since Gordon Strachan took over, he has put belief into Scotland's players. They believe they can stand up to teams and take them on.
"If you have that belief, you have that chance to take on teams. There is enough fight in this Scotland squad to give other teams a game in this group."
Wales
Euro pedigree: Twice Wales have been within sniffing distance, but the finals have so far remained just out of reach.
In 1976 the finals consisted of four teams, and Wales fell in the quarter-finals, losing 3-1 on aggregate to hosts Yugoslavia.
Twenty-eight years later, another two-legged tie and another disappointment as Russia prevailed 1-0 in the play-offs for Euro 2004.
So far in Euro 2016 qualifying: Gareth Bale to the rescue. The world's most expensive footballer at £85.3m proved priceless to his nation, scoring twice to help them snatch a 2-1 victory from an underwhelming performance away to Andorra in the first match of their qualification campaign.
Still to come: With Bale, Aaron Ramsey and Joe Allen to build a team around, Wales have their most talented crop of players in a long time. Unfortunately for them, the same is true of Group B rivals Belgium and Bosnia-Hercegovina.
Wales' remaining Euro 2016 qualifiers
Andorra (h)13 October 2015
Bosnia-Hercegovina (h) 10 October 2014; (a) 10 October 2015
Cyprus (h) 13 October 2014; (a) 3 September 2015
Belgium (a) 16 November 2014; (h) 12 June 2015
Israel (a) 28 March 2015; (h) 6 September 2015
Both have their own stars with Eden Hazard and Vincent Kompany heading the Belgian cast list and Manchester City's Edin Dzeko at the centre-point of Bosnia-Hercegovina's attacks. Both arguably have more strength in depth as well.
Edging either out to claim an automatic qualifying spot is a big test for Wales.
Former Wales international Iwan Roberts: "I am very positive about Wales' chances in this group.
"I wasn't that impressed by Belgium in the World Cup and I think that we can go and beat Bosnia.
"We have got two players in Gareth Bale and Aaron Ramsey who can win you any game and around them we have eight or nine players who are playing regularly in the Premier League."
Northern Ireland
Euro pedigree: None.
Northern Ireland have never qualified for a Euro finals. They came mighty close in 1984, though, beating West Germany home and away, but were ultimately edged out by the defending champions on goal difference.
So far in Euro 2016 qualifying: Without a competitive win away from home since September 2010, Michael O'Neill's side may well have taken a draw had they been offered it before kick-off against Hungary in Budapest.
Instead, on the ninth anniversary of a legendary qualifying win over England, Northern Ireland secured another famous victory as Niall McGinn and Kyle Lafferty scored in the final 10 minutes to snatch a 2-1 win.
Still to come: Group F is an interesting mix of teams, made all the more intriguing by the results in the first set of games. As well as Northern Ireland's win, Greece, the highest-ranked team in the group, lost at home to Romania.
A comfortable victory at home to the Faroe Islands on 11 October could well take Northern Ireland to the top of the group.
Northern Ireland's remaining Euro 2016 qualifiers
Faroe Islands (h) 11 October 2014; (a) 4 September 2015
Greece (a) 14 October 2014; (h) 8 October 2015
Romania (a) 14 November 2014; (h) 13 June 2015
Finland (h) 29 March 2015; (a) 11 October
Hungary (h) 7 September 2015
If they are still in the upper end of the table after away trips to Greece and Romania, on 14 October and 14 November respectively, then a historic first finals could be on the cards.
Former Northern Ireland international Keith Gillespie: "We have to make sure that we don't slip up against the Faroe Islands - winning home and away against them is imperative as I think that everyone else will.
"Too often in the past everyone has been full of optimism going into the first game and we have been defeated and ended up playing catch-up on the rest of the group. Thanks to the win in Budapest, that is not the case this time.
"But with three of the first four games away from home, it is important to get as many points as possible on the board early on to keep pace.
Republic of Ireland
Euro pedigree: The highlight of the Republic of Ireland's European Championship record came six minutes into their very first match at the tournament's finals.
Ray Houghton's early strike was the only goal in their 1988 group opener against England. However, a draw against the Soviet Union and a narrow defeat to eventual champions Netherlands ensured Jack Charlton's men went no further.
The less said about their second finals campaign in 2012, during which they won no games, scoring only one goal and conceding 10, to finish bottom of an admittedly tough group, the better.
So far in Euro 2016 qualifying: The moment of Euro 2016 qualifying so far? Aidan McGeady's sublime spin and shot to secure a 2-1 win for the Republic of Ireland's opener against Georgia in the last minute of normal time is certainly up there.
As well as three points, the Everton winger's goal ensured that the first competitive game for the Republic's managerial dream team of Martin O'Neill and Roy Keane ended in success.
Still to come: From the faintly ridiculous to the sublime. The Republic of Ireland take on Gibraltar (still to be awarded full Fifa membership) and Germany (world champions) in their next two games.
Republic of Ireland's remaining Euro 2016 qualifiers
Gibraltar (h) 11 October 2014; (a) 4 September 2015
Germany (a) 14 October 2014; (h) 8 October 2015
Scotland (a) 14 November 2014; (h) 13 June 2015
Poland (h) 29 March 2015; (a) 11 October 2015
Georgia (h) 7 September 2015
Neither match will probably be decisive in their campaign, however. Instead, the games against Poland and Scotland will be where the Republic of Ireland's bid for automatic qualification prospers or perishes.