BBC Sport - Jose Mourinho responds to criticism about Chelsea ahead of Maribor tie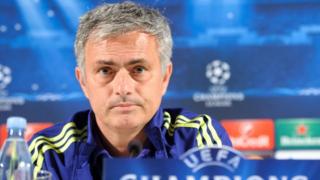 Mourinho reaffirms his love for Chelsea
Chelsea boss Jose Mourinho says he "loves the club" and asks fans to understand that any criticism of them comes from his viewpoint that he would want to help his side.
The 51-year-old Portuguese caused a stir when he condemned Chelsea's support and said Stamford Bridge felt like an "empty stadium" during Saturday's 2-1 win over QPR.
Speaking ahead of the Londoners' Champions League Group G clash against Maribor on Wednesday, Mourinho adds that their previous 6-0 thrashing of the Slovenians was a "fake" result and warned against thinking the tie would be easy.