BBC Sport - Island Games: Lee Bramley nets Jersey winner in 1997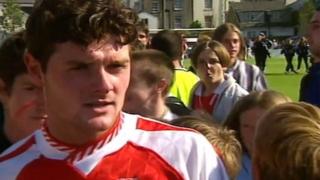 Bramley nets Jersey winner in 1997
Lee Bramley came off the bench to score a last-gasp winner for hosts Jersey as they beat Ynys Mon 1-0 in the 1997 Island Games final.
Bramley, who had turned 23 the day before the final, was on as a late substitute at Springfield and netted from close range to secure a dramatic gold medal for his side.
BBC Channel Islands News will have coverage of the 2015 Island Games in Jersey from Saturday, 27 June.