Jersey boss hopes fringe players will rise to Sutton United challenge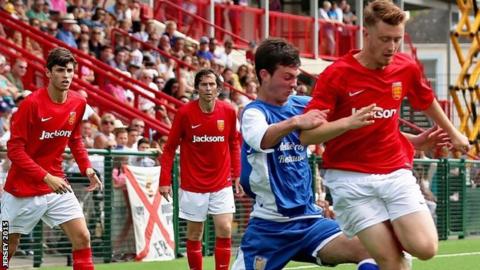 Jersey men's football boss Jimmy Reilly has called on his fringe players to cement their place as they prepare for their friendly with Sutton United.
They will be without a number of their Island Games squad due to both holidays and injury problems.
The Channel Islanders will host the National League South side at Springfield on Saturday.
"It gives other players the chance to come in and show me what they can do," Reilly told BBC Radio Jersey.
"I think it'll be a good experience for the guys, but they just need to try and take this opportunity."
Jersey were knocked out at the group stage of their home Island Games last month.
They will travel to Isthmian League Division One North side Thamesmead Town on 1 August for another friendly.
"They're (Sutton) going to be competitive, strong and physical. These are the types of games you need to try and progress," added Reilly.
"We've got a lot of young players coming through so I think the future's bright."
Jersey men's football squad to face Sutton United:
Johnny Willows, Jose Figeira, Kamen Nafkhas, Nathan Stresleki, Luke Campbell, Calvin Weir, Elliot Poole, Jake Baker, Craig Russell, Jack Griffin, Dominic Pougelle, Zeljko Marinovic, Keran Lester, Karl Hinds, Rupert Murray, Jason Andrade.