Crewe Alexandra: Boss Steve Davis 'excited' about prospect of new season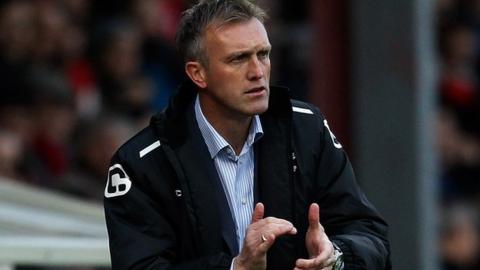 Crewe Alexandra have put last season's relegation behind them and are "excited" about the prospect of challenging for promotion this term, according to boss Steve Davis.
The Alex won only seven games as they finished bottom of League One in 2015-16, but Davis says they have moved on.
"We've put last season behind us," the 50-year-old told BBC Radio Stoke.
"Hopefully we've learnt about what we could've done better and we're looking forward to what's coming."
He continued: "Football evolves quickly and you have to move on. I'm excited about the season and we just have to get on with it."
Having completed deals for striker Ryan Lowe and defender Zoumana Bakayoko, but admitted his search for more recruits is not proving straightforward.
"It's been frustrating - you think you're there and then you're not and you're playing a waiting game," Davis said.
"Some clubs are lucky and have the money to throw at signings and get them done quickly - but hopefully we'll get some answers soon."
Youngsters still have 'weaknesses'
Lowe and Bakayoko are the only members of the Alex squad over 25 and five players will only be 19 when the new season starts on 6 August.
But Davis is adamant the club cannot keep using youthfulness as an excuse for under-performing.
"We've got weaknesses in our younger players - I don't think they're mentally strong," he said.
"They don't understand yet how hard work can have an impact on careers. We have to develop that because players have to trust each other.
"They've played a lot of games now and I'm looking for them to push on - a lot of them have stood still and have to prove they are very good League Two players and can do well in League One."