BBC Sport - Europa League: Manager Baxter happy with Crusaders' first leg efforts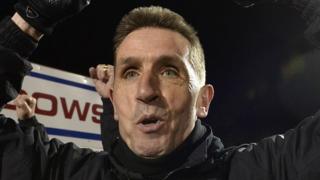 Baxter happy with Crues' first leg efforts
Crusaders manager Stephen Baxter declares himself happy with his side's efforts in their 3-0 home defeat by FC Copenhagen in the first leg of their second qualifying round tie.
"We were up against top European opposition littered with internationals of really high quality," outlined the Crues boss after the match at Seaview.
"We competed in the game, created a number of chances against a really good team and asked their keeper to make a couple of smart saves," he added.