Ryan Shawcross: Stoke captain's latest back injury not serious, says Mark Bowen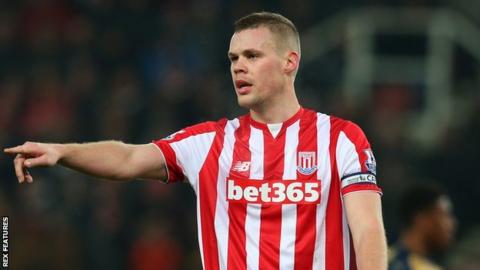 Stoke City captain Ryan Shawcross' latest back injury is not serious and unconnected to last season's problems, according to assistant boss Mark Bowen.
The centre-back, 28, missed Saturday's pre-season friendly defeat by Championship club Burton Albion after falling awkwardly in training.
Shawcross has missed games through back injury over the past two seasons.
"Naturally we were worried at first, but it's nothing to do with his old injury," Bowen said.
"When he first went down we were thinking 'what the hell is this now?'" Bowen, 52, told BBC Radio Stoke. "But it's just a little tweak in his back and he should be fit to train."
Shawcross missed six weeks in the second half of the 2014-15 season after injuring his back against Queens Park Rangers.
He then sat out the first two months of last term after having surgery.
Although Shawcross returned at the end of October, he was injured again three months later with another back problem.
He did not play for another nine games, but appeared in the last six matches of last season as the Potters finished ninth in the Premier League for the third year running.
And despite the latest setback, Bowen reassured fans the influential defender will not be missing for long.
"As far we're aware he's in the frame for [the next friendly game against] Preston on Saturday," Bowen said.