Vito Mannone: Changing manager 'just a football thing'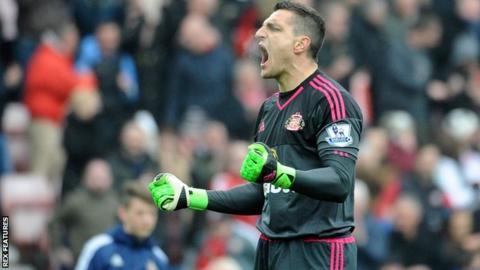 Sunderland's players are in a positive mind frame ahead of the new season despite Sam Allardyce's departure, insists goalkeeper Vito Mannone.
David Moyes was announced as the newly appointed England boss' replacement on Saturday and is the Black Cats fourth manager in less than three years.
"[Changing manager] is just a football thing that can happen at anytime," Mannone told BBC Newcastle.
"It's happened a few times. We're used to it and know what we need to do."
The 28-year old continued: "It's a new start again. We want to be optimistic and be positive."
Allardyce, 62, joined Sunderland in October 2015 with the club second bottom in the Premier League, having failed to win a single match in their opening eight.
The Black Cats recovered to finish 17th, winning three of their last six games to end the season one point above their relegated north-east rivals Newcastle.
"This time around we've got a solid base. We did very very well in the last two or three months of last season," the Italian goalkeeper added.
"It's down to us really. The technical staff are doing a great pre-season for us, we've got great fans. and everything is fantastic to push on."
Moyes, who was sacked after only 10 months in charge of Manchester United, has been appointed on a four-year deal.
And Mannone says he is looking forward to working with his successor.
"We will listen to [Moyes'] ideas and hopefully it will work out even better," he added.
"From what I've heard he is a hard worker. That's all we need to know. For me the best way is the hard work, without that you can't do anything.
"That's how we managed to do the great results at the end of the year."
The 53-year old former Everton manager takes charge of Sunderland for the first time on Monday as they play Swiss side FC Stade Nyonnais in a pre-season friendly.