Premiership play-offs: Falkirk call for one-off games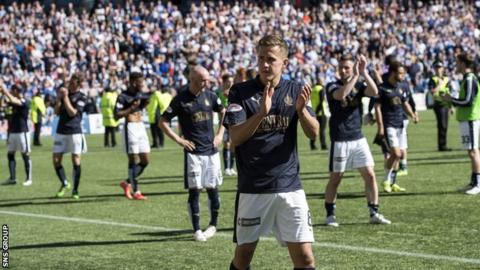 Falkirk are proposing that Premiership play-off matches are switched from two legs to one-off ties.
Championship clubs will discuss the idea and the SPFL will consider change if a consensus is reached.
At present, teams finishing third and fourth meet, with the winners taking on the runners-up before a final with the 11th-placed Premiership side.
"I think it is possible to restructure without losing any funding," said Falkirk chairman Doug Henderson.
"The current system is extremely popular with supporters as was shown from the great response during the play-offs over the last three years.
"But, it has also been shown that it is extremely difficult for a Championship side to win through in up to six games when a Premiership side only has to play two.
"A single game with extra-time and penalties at a neutral venue would attract a crowd, in most cases, which would be greater than the sum of the attendances in a two leg play-off.
"Some might argue that the TV money would be lost, but the total TV money in this year's play-offs was £200,000. By comparison, a quarter-final in the Scottish Cup would attract a TV revenue of £160,000.
"On this basis it seems to me that it would be more attractive to TV companies to have one-off play-offs."