Hearts: Charlton's Tony Watt aims to move on from Barcelona heroics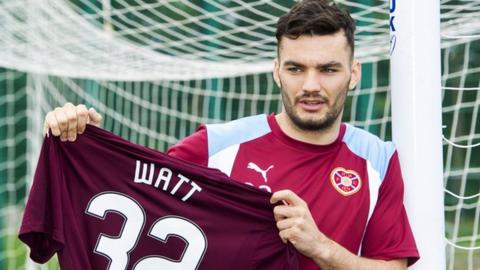 Tony Watt says he returns to Scotland "a more mature" striker who aims to be remembered for more than his Champions League heroics against Barcelona.
Watt shot to fame as an 18-year-old following his winning goal for Celtic in a Champions League game in 2012.
The striker, who has joined Hearts on a season-long loan from Charlton Athletic, hit back at his critics.
"If you've got a reputation, then people, if they don't like you, just kick on and try to ruin you," he said.
Watt had spells at Belgian clubs Lierse and Standard Liege before signing for Charlton but was subsequently on loan at Cardiff City and Blackburn Rovers last season.
Former Ajax goalkeeper Stanley Menzo, who was Watt's coach at Lierse, criticised the striker's attitude.
Now 22, the forward is unfazed by his critics and is keen to impress in Scotland's top flight.
"If you ask me, 'would I change it [scoring against Barcelona]?', No, because I grew up a Celtic supporter as a young boy and nobody else is going to be a Celtic supporter from Coatbridge that can do that in their career," he said.
"I wouldn't change it for the world.
"I played in an Old Firm game - albeit I never got a touch - played at Parkhead, I did everything and now it is a new challenge, and I am focused on Hearts.
"I wouldn't change it for the world, everyone around me was proud. [But] it came to a time when I had to leave Celtic and that was it and I don't regret anything."
Responding to Menzo's criticism, Watt said: "I don't know, I'm a bit of a different character obviously. There was no secret that me and him never got along and I wasn't his signing. He made it difficult from the beginning. I don't hold any grudges and every manager I've worked with since has been brilliant with me.
"Honestly, it's just football. Maybe I was young and a bit immature but, sometimes from the outside, the player is the easy one to get blamed.
"If you've got a reputation, then people, if they don't like you, just kick on and try to ruin you."
Watt admits the attention that followed his goal against Barcelona played a part in his decision to leave Scotland.
'I'm a lot more mature'
"It was difficult and that is why I wanted to go as well," he said.
"But you can't over think it. I'm lucky, I'm in a position where I am having a good career, I'm a footballer, which a lot of people would love to be.
"I wouldn't say it's a burden, but I just want to kick on, get back home and start a career with Hearts and get people to forget maybe so I can actually kick on with my career.
"In Belgium, it never really worked out at Standard Liege.
"I hardly started, scored a couple of goals, but I never played as much as I would like.
"I went to Charlton, did alright. For different reasons, they wanted me to go out on loan."
Watt then joined then Championship rivals Cardiff and says the Welsh club tried to sign him but were thwarted by a transfer embargo.
A spell followed at Blackburn, where Watt believes he "did alright" before suffering a groin injury and then gaining his first Scotland cap.
"So, in a sense, it's a bit unlucky, but it's just football and you have to deal with the ups and downs," he said.
"I'm not a different person but I'm a lot more mature. It's life and I'm not trying to sell myself to anybody.
"You grow up and football is a difficult game and you become more of a man."
The striker has high hopes for his loan spell in the Scottish capital this season.
"I spoke to the manager and made no secret that I wanted to come home," he said of head coach Robbie Neilson.
"He gave me the option to come and work with a good young squad and sold me the dream of the club, the vision of the club and I want to buy into it."