Rangers: Mark Warburton hopeful of further additions to squad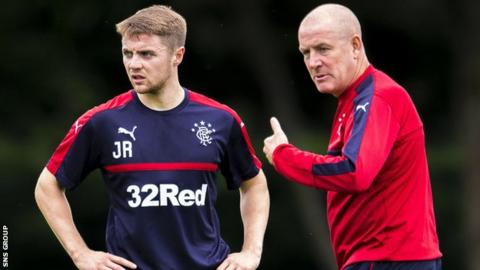 Manager Mark Warburton says Rangers are still in the market for two more signings as he prepares the Ibrox side for their return to the Premiership.
Nine players have arrived during the summer transfer window, but Warburton is still keen on adding a striker and a centre-back to his squad.
The Englishman insists, though, that quality rather than quantity is shaping Rangers' recruitment plans.
"It's not a case for bringing in numbers for numbers' sake," he said.
"We're looking for another attacking option and another defending option. But we're in no panic for it. The squad is in good shape and the fitness levels are good.
"If we can find the one or two who will add value, then we will move."
Matt Gilks, Lee Hodson, Clint Hill, Joey Barton, Matt Crooks, Jordan Rossiter, Josh Windass, Niko Kranjcar and Joe Dodoo have joined Rangers ahead of this season.
All but Crooks, who is recovering from injury, have featured as the Ibrox side won all four of their League Cup Group F games, against Motherwell, Annan Athletic, East Stirlingshire and Stranraer, without conceding a goal.
Warburton believes his team will face a sterner challenge when they face English Premier League side Burnley in a friendly at Ibrox on Saturday.
"I spoke to [Burnley manager] Sean Dyche the other day and he said they will put out a very strong side, certainly for the first 70 minutes," Warburton said.
"They won the Championship last year. They are a top team, so it's a real test for us. We want more of these kind of fixtures.
"No disrespect to the quality of opponent in the League Cup, we would rather play two or three games of this calibre going into the start of the season."
RVP rumours scotched
Warburton also laughed off social media rumours that Rangers were on the verge of signing former Robin van Persie, the former Arsenal and Manchester United striker who is currently at Fenerbahce.
"I have no idea where the rumour has emanated from," he said. "I woke up to a barrage of texts and missed calls, with apparently the deal done.
"Out of our pay league I think is a fair comment. I'm bemused to hear some of the stories, including betting being suspended.
"There is no truth in the story whatsoever."