Jerome Binnom-Williams: Peterborough United signing hailed by boss Grant McCann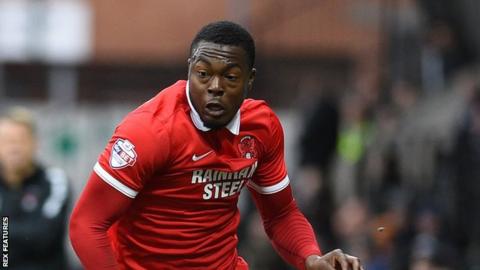 Peterborough United manager Grant McCann has said young players should look to new signing Jerome Binnom-Williams as an example.
The left-back, 21, a product of Crystal Palace's academy, signed for an undisclosed fee on Tuesday.
"It's a testament to the kid that he wanted to leave Palace with a year or two left on his contract," McCann told BBC Radio Cambridgeshire.
"A lot of kids in the Premier League could take a note out of his book."
Adil Nabi is another former Premier League academy player plying his trade in League One with Peterborough.
The ex-West Bromwich Albion trainee made four appearances for the club after signing in January.
"He could easily have stayed at West Brom and played Under-21 games," McCann said. "But they want to come out and they want to further their career.
"They're coming to a club where they know if they have one or two good years scouts will come and watch.
"Ideally I don't want to lose any of them, but that's just the nature of the game."