Shelley Kerr: Stirling Uni 'drop-outs' motivated against Rangers colts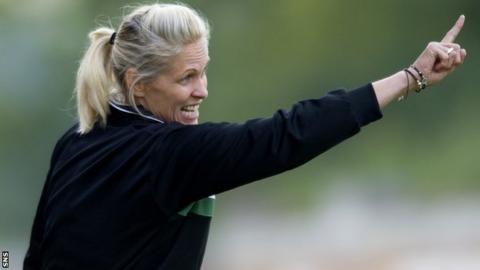 Stirling University boss Shelley Kerr feels her players can "prove a point" in Wednesday's Challenge Cup clash with Rangers Under-20.
Kerr's squad is chiefly made up of academy drop-outs, as required by the high-performance programme at the university.
"The match is a measure for the players," Kerr told BBC Scotland.
"The majority of them have been in similar academy set-ups to what the opposition players are in now."
She added: "We know that it's going to be a tough test for us, but there's no point in developing as an individual or as a team if you don't put yourself in a challenging environment."
Kerr praised the revamp of the Challenge Cup, which gives Highland and Lowland League teams, like Stirling University, the opportunity to pit their wits against more illustrious opposition.
Her side qualified for the tournament by virtue of a third-place Lowland League finish.
Scotland's first-ever female senior manager was also keen to highlight the benefits of the pyramid structure in Scottish football, where teams like hers can earn promotion to the Scottish Professional Football League.
Edinburgh City became the first junior club to climb to League Two last season.
"It's only been up and running for two years but already it's been successful," she said.
"Edinburgh City have reaped the rewards; their promotion sends out a huge message to Highland and Lowland League teams that it can be done.
"I think it's what Scottish football needs. You should always reward the teams that have the right infrastructure in place and have ambitions to do better."
Next week marks Kerr's two-year anniversary in charge of the squad, and she admitted there have been plenty challenges along the way.
"Because of the academic cycle, players will move on every year and you have to actively put in a recruitment system to cope with that," she said.
"For some of the players, it's the first time they've been away from home. They have been in an academy set-up where their dreams have been shattered.
"For me, it's about picking up the pieces and giving them more confidence.
"It's a test of your management skills, but I've thoroughly enjoyed it. It's been a real breath of fresh air for me."