Ethan Ampadu: Exeter City 15-year-old gets first-team chance while on school holiday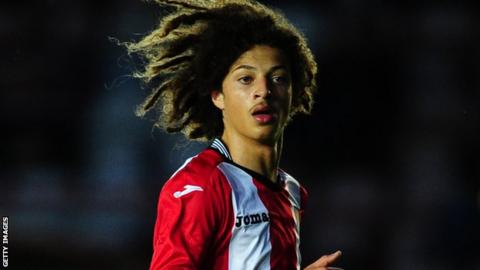 Exeter City boss Paul Tisdale has said Ethan Ampadu played like a seasoned professional when the 15-year-old became the club's youngest player.
The Wales Under-16 international made his debut as the League Two side beat Championship club Brentford 1-0 in Tuesday's opening round of the EFL Cup.
Ampadu was only called up to the first-team because he is on school holiday.
"The biggest compliment I can give him is that he plays like a 35-year-old," Tisdale told BBC Radio Devon.
"That's not normally the English way - we like drama, we like spark. But we don't often encourage and cultivate subtle, classy players, and he's one of those."
Young guns - how does Ampadu compare?
Reuben Noble-Lazarus is the youngest player ever to play in the Football League, making his debut for Barnsley aged 15 years and 45 days in September 2008
In November 2008 Gillingham striker Luke Freeman was 15 years and 233 days old when he became the youngest person to play in the FA Cup's first round - Andy Awford played a preliminary round match for Worcester City in 1987 aged 15 years and 88 days.
Theo Walcott became the youngest player to play for England when he replaced Wayne Rooney against Hungary in May 2006, aged 17 years and 75 days old.
The youngest-ever international footballer was Lucas Knecht, who was 14 years and two days old when he made his debut for the Northern Marianas islands in a 9-0 loss to Guam on 1 April 2007.
Ampadu, who is capable of playing anywhere in defence and midfield, started at centre-back aged 15 years and 331 days to reset the record for youngest Grecians player.
The previous record for youngest player at 16 years and one month was set more than 88 years ago by Cliff Bastin who would later go on to set Arsenal's record for goal scoring.
Ampadu, reportedly wanted by a number of top Premier League clubs, has been hard at work impressing first-team staff and players at St James Park while on his summer holiday.
"He finished school and he came straight in to train with the first team," Tisdale said.
"I said 'come in when you want and if you want to go on holiday with your family then you go away, but come and do as many days as you can' - well he's been in every day over his school holidays.
"It became particularly apparent within three or four weeks that the rest of the squad suddenly had the upmost respect for his ability to play and they treated him like any other first-team player, if not a senior first-team player.
"That's often a really good clue, the senior first-team players instantly accepted him as one of them and treated him as such. That's a really good indicator to a manager, the fact that those players accepted him in and he has just looked the part."