Sam Hoskins: Striker says confidence key to Northampton's unbeaten run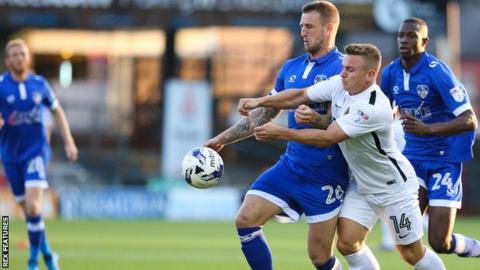 Northampton Town's Sam Hoskins has played down any suggestion players are scared of making a mistake which would end the club's 27-game unbeaten run.
The Cobblers have not lost since a 3-0 defeat by MK Dons in the FA Cup third round on 19 January.
The team has started their first season back in League One with three draws, most recently at Oldham on Tuesday.
"We play with confidence, that's why we are on this run," Hoskins told BBC Radio Northampton.
"Each game we add to that total is more confidence for us, we can't go into games thinking 'what if I make a mistake?' - we have got to be positive like we have been and we will get good results."
Striker Hoskins, 23, struggled with an injury during preseason, making his first start of this campaign against Oldham following three substitute appearances.
Northampton scored 82 goals in becoming League Two champions last season, but have netted just twice this campaign.
Hoskins said he was sure the goals would come.
"We defend really well, we get back in shape as a team, when we get up the other end we need to be more clinical," he added.