Ki Sung-yueng: Swansea City midfielder's 'tough' military service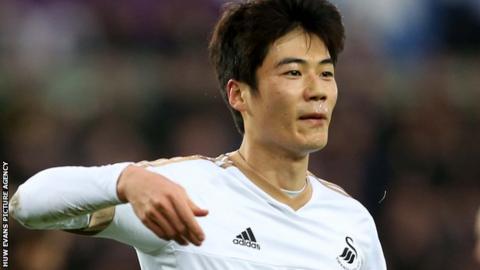 Swansea City's Ki Sung-yueng says military service in South Korea was "tough" but "a great experience."
South Koreans must complete two years' compulsory military service before the age of 29 or face being exiled.
Midfielder Ki, 27, only had to complete four weeks service after being part of the team which won men's football bronze at the 2012 Olympics.
"I was treated like a soldier and there was no time to think about football," Ki said.
"The training was not hard but mentally it was a little bit tough because I needed to stay there for four weeks."
North and South Korea are technically still at war as the 1950-53 conflict ended with a ceasefire.
Tensions between the two countries remain and centre on the differences between democracy and communism.
"In Korea there's always a possibility of a war between South and North so I'd have to be ready and need to know how to deal with it," Ki added.
"I didn't know much about the army before and I didn't know how they sacrifice their life for the country.
"In four weeks I learnt a lot about them and that they work for the country. I'm very proud of them."
The former Celtic player made his first appearance of the season as a second half substitute in Swansea's 2-0 defeat at home to Hull City on 20 August.