Joey Barton: Rangers midfielder bemused after being 'asked to stay away' from club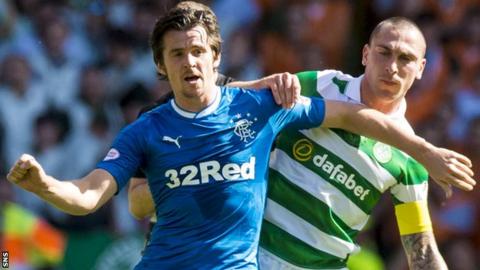 Rangers midfielder Joey Barton says his club-imposed ban is "wrong".
Press Association Sport reported Barton had an altercation with team-mate Andy Halliday as players reviewed Saturday's 5-1 loss to Celtic in training.
Barton, 34, is not expected to feature against Ross County on Saturday after being told to stay away until Monday.
"There is absolutely no issue with me and Andy," he told Talksport. "We sat down in the dressing room afterwards and spoke through what was said."
Barton said it was "disappointing that certain people are trying to insinuate" there is a problem between him and Halliday "because it's completely false".
The former Burnley, Newcastle, Manchester City, QPR and Marseille player added: "Andy is a mad, passionate Rangers fan, he's stood in the terraces, so I've got great respect for him. He cares deeply about making the club better.
"But the way it's been handled is strange. They've told me to stay away but there are a lot of misconceptions out there at the moment."
Barton said he had been asked to "re-evaluate the way I'm thinking" but does not think his opinions will change.
"I want Rangers to win," added the former England player, who has one cap.
"We lost to our fiercest rivals at the weekend, we came in to train on Monday and Tuesday, and we're picking the bones of how we get better, how we get Rangers back to the top of Scottish football.
"We're asked for an opinion and I'm someone who gives an opinion. Two passionate Rangers players have then shared opinions on how we get better as a team and what's going wrong for us.
"It's nothing more and nothing less than that."
He added: "Maybe I don't communicate like somebody who has been educated at Eton, but that's not me, I'm from Liverpool. I communicate how I communicate and I want to win football matches.
"It can be bristling at times and for that I take responsibility. Maybe I could communicate better and I accept that, but the message doesn't change."
Mark Warburton's side have dropped seven points from their opening five Scottish Premiership games this term, having been promoted by winning last season's Championship.
Barton turned down the offer of a new deal at Burnley, who won last season's Championship in England, to join Rangers in the summer.
"Obviously sometimes the way I communicate can be a bit blunt and a bit direct and it ruffles people's feathers, which I know I have to work at, but I don't apologise for trying to win," added Barton.
"I care deeply about playing football.
"When you look at my history and you're told to stay away from the club, it does look like something more has happened.
"That's why I've decided to get on the radio and speak, because it's wrong."