Mauro Icardi: Inter Milan captain apologises to fans over comments in autobiography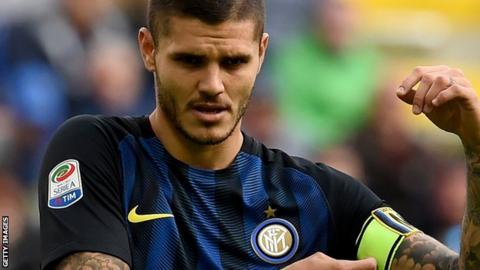 Inter Milan striker Mauro Icardi has been fined by the club over comments about fans in his autobiography.
Inter fans displayed banners and demanded Icardi's removal as captain during Sunday's 2-1 loss to Cagliari.
However the 23-year-old will remain captain after apologising, saying that he would "make efforts" to have the offending passages removed.
"Within a family, tough times and misunderstandings happen," he told the club website.
Icardi, who is the club's leading scorer, claimed in his autobiography that he had been "hailed as a hero" after confronting fans following a defeat at Sassuolo in February 2015.
He was called a "clown" by fans during their home defeat, before being jeered when he missed a penalty with the score at 0-0.
"This has offended a lot of people but you always need to look forward and, if possible, do everything in your power to get things back to normal," he added.