Sammy McIlroy surprised by lack of club interest in NI manager Michael O'Neill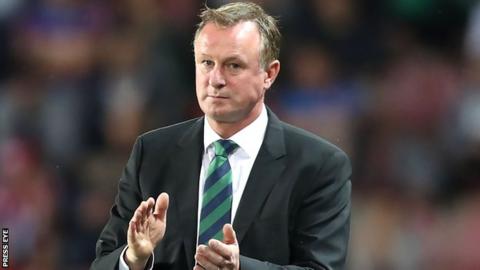 Former Northern Ireland manager Sammy McIlroy has expressed surprise at an apparent lack of interest among clubs in current NI boss Michael O'Neill.
O'Neill guided his side to the last 16 stage of Euro 2016 in the summer.
McIlroy's words echoed the sentiments expressed by NI defender Jonny Evans prior to the recent World Cup qualifiers with San Marino and Germany.
"I'm totally shocked that there's not even been speculation of a club, very, very shocked," said McIlroy.
Two Premier League sides and three Championship teams filled vacancies during the recent international break, but there was no speculation linking O'Neill with any of the vacant posts.
New deal for O'Neill
The ex-Shamrock Rovers boss received widespread praise for leading Northern Ireland to their first major tournament in three decades and signed a four-year deal with the Irish Football Association prior to the finals in France.
McIlroy, who managed the likes of Macclesfield and Stockport in England, has been taken aback that no chairman has thought O'Neill worthy of serious consideration.
"I thought with the job he's done over the last couple of years definitely somebody would have come in and had a look at him," argued the 88-times capped NI international.
"Everyone seems to be going for foreign managers. Look at Swansea, where did that come from? No disrespect to Bob Bradley, but that came out of the blue. Ryan Giggs was lined up for that as well, nothing happened.
"I just think now it's very, very difficult for young British managers to get that chance, for people to have the bottle to give these young managers a chance."
Lack of opportunities for young managers
The 62-year-old former Manchester United midfielder highlighted Cardiff's appointment of the much-travelled Neil Warnock, 67, as an example of the short-termism that clubs are displaying.
"Neil Warnock is a character, a proven manager, an experienced manager, but he's had three jobs in the last 12 months, people keep bringing him back," argued McIlroy.
"I thought Michael or some other young managers, maybe Ryan Giggs, would maybe have a chance but they just seem to keep going for proven managers and it's very, very hard. You do all these coaching badges to get the chance and it doesn't come along."
McIlroy had a more illustrious playing career than O'Neill but his managerial stints were spent in either non-league or the lower levels of the English Football League.
He does not anticipate O'Neill treading a similar path, though, as McIlroy thinks anything below the top two tiers would represent a step back from his current employment.
"I don't think Michael would do that with the stock he's got now with Northern Ireland," McIlroy said.
"If Michael O'Neill's going to leave it will be a bigger club. I think if he is ever going to leave Northern Ireland it will be for a big Championship club with potential."