Keith Hill: Rochdale boss blasts 'crazy' schedule after Swindon defeat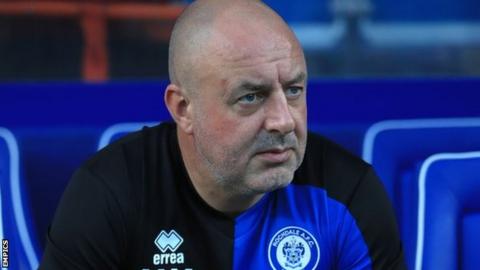 Rochdale boss Keith Hill was unhappy with his side being asked to travel to Swindon for a Tuesday evening fixture.
Defeat at the County Ground ended a run of seven wins, but Hill was not pleased about the 356-mile midweek round trip.
He told BBC Radio Manchester: "Do we still pick the fixtures through a computer? Is that the way it goes?
"Something really needs to be done. We need a bit of help because the hotel, the cost that we go through - it's something you shouldn't have to do."
Three of Rochdale's six losses in all competitions this season have come in midweek games away from home, two of them in League One.
The logistics meant the squad travelled down to Wiltshire the day before the game.
"We stayed all day in a hotel, and it's just not conducive to the type of energy that we want - it can get you really lethargic," added Hill.
"There's too much coffee being drunk, too much idle time, too much time sleeping, and it's not the ideal preparation, but we can't trust the traffic to actually come down on the day.
"It's crazy. I'm sure somebody can just jig the formula so that everybody gets a fair and equal opportunity to prepare their players properly.
"It wouldn't surprise me if, on Boxing Day, Carlisle play Plymouth away."