Jim Bentley: Morecambe boss considers hotel for squad before home games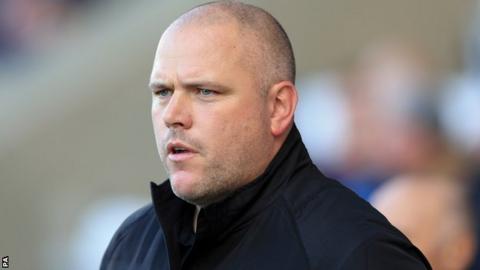 Morecambe boss Jim Bentley says he will look at putting his players in a hotel before home games to help halt their poor form at the Globe Arena.
The Shrimps have lost five of their seven home League Two games this season, but boast the division's second best away record.
Bentley's side are 10th, despite not having won at home since 16 August.
"We've only tried it once in the past and we thought the performance was excellent," said Bentley.
"We're not blessed to be able to pay everyone extra money so they can live in the area, so a lot of our lads travel.
"You're travelling two hours to a home game and the opposition travel 10 minutes - it feels like an away game."
Only Leyton Orient have been beaten more often at home in the league this season, while Morecambe won just seven of 23 matches in front of their own fans last term.
"With the way the roads are at the minute, certainly getting through Lancaster and off the motorway, you can put half an hour onto your journey - you've done more travelling and had the stresses of traffic," Bentley told BBC Radio Lancashire.
"We've got to win more games at home in front of our fans and if that means us doing that (staying in a hotel) we'll do it, because ultimately it's about winning games."
When asked about travelling to home matches, Morecambe defender Ryan Edwards said: "The season before last we still did the same thing - there were a lot of people like myself more than an hour away and it was fine then, so I don't know what it is - but it needs addressing."