Island Games 2017: Jersey name 15 players in women's football squad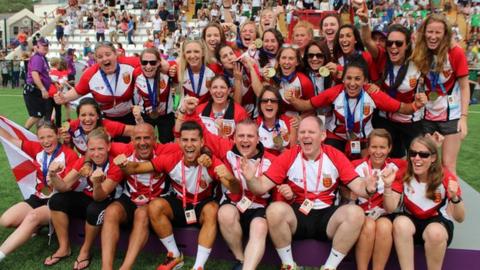 Jersey have named an initial squad of 15 players which will defend their women's football gold medal at the 2017 Island Games in Gotland.
Former Wales international Jodie Botterill returns having taken a break following the gold Jersey won in 2015.
Teenager Natasha Keen, goalkeeper Sara Luce, Jersey player of the year Ciara Giles and defender Leanne Le Feuvre are set to compete in their first Games.
Eve Watson will continue to captain the side, having led the team last season.
Jersey boss Simon Petulla will name another five players closer to the start of the event, which takes place in June.
"Some of the squad have yet to confirm availability and also we are still keeping an eye on some of the younger members of the squad that we may bring in," Petulla said.
"The squad is by no means closed and anyone playing well could be brought in at a later stage."
Jersey squad: Sara Luce, Ciara Giles, Leanne Le Feuvre, Michelle Bichard, Sylvie Spinola, Lauren Quemard, Kelly Hughes, Sophie Botterill, Jodie Botterill, Holly Muirhead, Libby Barnett, Eve Watson, Rosie Corbett, Catarina Andrade, Natasha Keen.