Stuart Armstrong: Brendan Rodgers predicts caps will come for Celtic man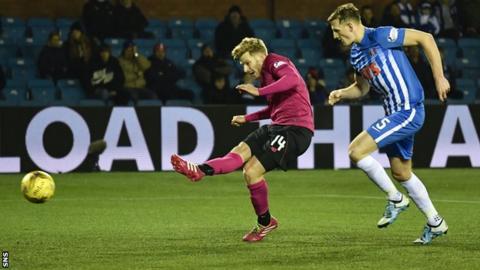 Brendan Rodgers expects Stuart Armstrong to become a top international player but insists he must be left to develop at his own pace.
The midfielder, 24, scored Celtic's goal in their 1-0 win at Kilmarnock, a result that stretched their lead at the top of the Premiership to 13 points.
He has been named in Scotland squads but still awaits his senior debut.
"It's just a matter of time for Stuart - he's got all the attributes," said Celtic manager Rodgers.
Former Scotland Under-21 captain Armstrong moved to Celtic from Dundee United in January last year and his side have won every league match in which he's scored.
"I think first and foremost it's about consolidating his position at his club," Rodgers added.
"He certainly has the technique to play at that level and you can see that wherever he plays on the field he's always looking to score a goal."
Scotland coach Gordon Strachan has previously said Armstrong has been on his radar but has so far resisted the temptation to play him.
Armstrong has started six league matches for Celtic this season and is on his way to cementing a regular place in a midfield that does not lack competition.
"Just give him time," added Rodgers.
"I don't think there's any doubt that he's going to have the qualities for that level, but just let him develop at his own rate and see where it takes him."