Hearts: Ann Budge will be happy with top-four finish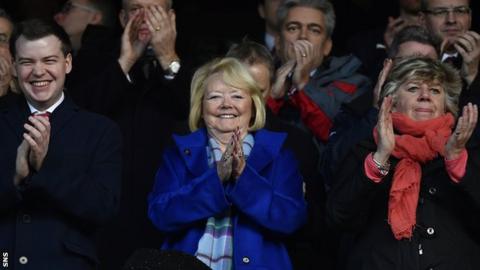 Hearts owner Ann Budge says she will be disappointed if the Edinburgh side do not at least match last season's third-place finish in the Premiership.
But she says the board is fully behind head coach Robbie Neilson and will back him with resources to succeed.
Budge was speaking ahead of Saturday's home game against Motherwell.
"We finished third last season, so my view is that anything less than third is not very good," the businesswoman told BBC Radio Scotland.
"If we can qualify for Europe and finish in the top three-four, we'll be happy."
Hearts are sitting fourth behind Rangers and Aberdeen as three clubs vie for the runners-up place behind runaway leaders and reigning champions Celtic.
"It's very tight and it has been all the way through," said Budge. "We focus on what we're doing and leave other teams to focus on what they want to do and I am quite sure we'll be successful."
Budge revealed that Neilson had attended Friday's board meeting, held in light of financial results showing that Hearts had wiped out their £1.6m debts and recorded profits of £623,000 for the year ending in June.
Neilson had previously told the media that he was unlikely to have extra funds to bolster his squad because of the need to finance the new main stand at Tynecastle.
"He left the board meeting happy knowing that he is going to get what he needs for us to achieve what we want to achieve," said Budge.
"We have just had our results for last year, which were very good.
"As long as we can keep the crowds coming, as long as we can keep the supporters behind us then we should be able to do this without too much difficulty from a financial perspective.
"Our objective is that we will not go into debt and I believe we can achieve it without going into debt."
Budge praised the way Hearts fans have responded in helping fund the club.
"People have said to me they will be behind you at the beginning but it will all tail off," she said.
"Well, it's not tailing off. The supporters are so behind this club. It is amazing."
Some demolition work has already begun around Tynecastle, but the current stand will stay open this season.
"People have bought into the whole thing," said Budge. "It is a good thing for Edinburgh, a good thing for the Gorgie area and it's a great thing for the club.
"It is inconvenient for everyone - to get to the shop, you have to walk half way round the stadium - but we are all in this together and, at the end, it is going to be worth it.
"We won't be ready for the start of next season, but we hope that, by September, we will be enjoying the new facilities."