Lee Hodges: Truro City boss says loss to Bishop's Stortford was 'kick in the teeth'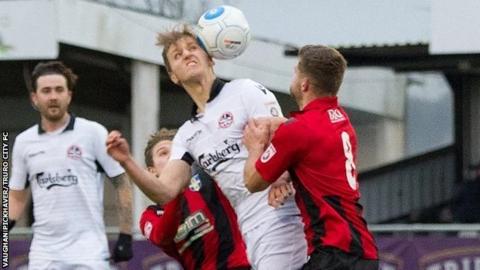 Truro City boss Lee Hodges says their 2-1 National League South defeat by bottom side Bishop's Stortford was "bitterly disappointing".
Andrew Neal put Truro ahead, but Aaron Bentley conceded a penalty and scored an own goal as their winning run ended.
"Aaron was man of the match last week, so football has a funny way of kicking you in the teeth when you think you're starting to crack it," Hodges said.
"The game became a non-event until that crazy moment we conceded."
The Cornish side had racked up four consecutive victories, including a 6-1 FA Trophy triumph, but are now 14th in the table.
"Aaron Bentley's given away a penalty and he's scored an own goal, which was a bit comical, and it's cost us the game, so I'm bitterly disappointed," Hodges told BBC Radio Cornwall.
"In our division any game you play, top or bottom of the league, you've got to be at it and I was hoping we were going to grind something out."