Cardiff City defender Sol Bamba 'embarrassed' by Ipswich red card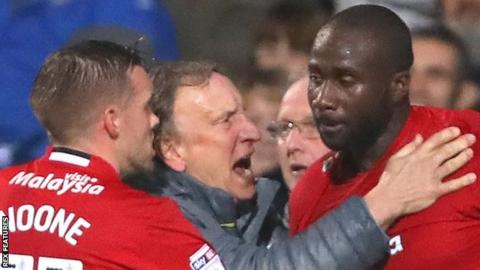 Cardiff City defender Sol Bamba says he was "embarrassed" when his children watched footage of his red card at Ipswich in December.
The 32-year old was banned for four games over Christmas for his dismissal and an angry reaction to a tackle from Jonathan Douglas.
Bamba confronted the referee, fourth official and Bluebirds manager Neil Warnock.
"It was a moment of craziness, if I can say it like that," Bamba said.
"Straight afterwards I was embarrassed because friends and family had said to me that 'that's not you'.
"The good thing is that the manager and the club have been very supportive.
"The kids have seen the footage because they've been into school and everyone was talking about it so I can't hide from it.
"I tried to explain to them that that's not my normal reaction and it shouldn't have happened like that.
"I explained to them that it was a mistake and I told them to make sure that they don't do it."
Bamba returned in the home win against Aston Villa and is now keen to use his performances on the pitch to apologise to the supporters as Cardiff try to push clear of the Championship relegation zone at Bristol City on Saturday.
"That's done now, I can guarantee that won't happen again," he said.
"Obviously I let the team and the club down as since I've been here everyone's been absolutely magnificent with me so that was a big disappointment for me.
"All I can do is move on from it and produce good performances to apologise to them really."