Afcon 2017: Burkina Faso players were confused, says coach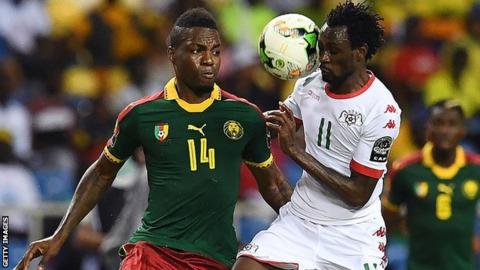 Burkina Faso coach Paulo Duarte has revealed there was a tactical problem that affected his side in their 1-1 draw with Cameroon in their Africa Cup of Nations opener on Saturday.
Duarte's side improved after the interval and pulled a goal back to earn a 1-1 draw with their Group A rivals.
The Portuguese said: "Unfortunately in the first half my players did not understand the strategy.
"When we play the next game against Gabon our players will do better."
The Burkinabe secured a point against Cameroon thanks to a Issoufou Dayo header and will be boosted by their ability to fight back in an end-to-end game in which both sides created chances.
But Duarte is expecting a tough game on Wednesday against the hosts, who will be desperate to react well to their shock 1-1 draw with tournament debutants Guinea-Bissau.
"I know the Gabon team very well, I trained them," added Duarte, who was coach of the Panthers from April 2012 to September 2013.
"They are serious candidates to win the tournament, not just because they are hosts.
"But I have a good group of players in my squad, it is very balanced, we have a good equilibrium. The only thing I have to do is manage them."
Cameroon coach Hugo Broos was unhappy his side were unable to finish off the Burkinabe.
"We missed a golden opportunity to be the leader of this group," the Belgian said.
"At 1-0 we had many opportunities to score and if we had scored we would have been top of the group, That is our regret."